Balay Sa Gugma Street Children
The Street Children Project Balay sa Gugma (House of Love) is a Non- Government Organization founded in 1993 which wants to cooperate with people round the world who want to liberate street children from their life on the streets with drugs and police harassment!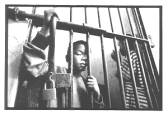 July 18, 1997, Wednesday, is the anniversary of Allan (Bunso) Arellano - age 15. He was a shy little boy who used to live around the bridge near the Cathedral at Cagayan de Oro. When he was imprisoned in Lumbia prison I got him to write down something of his life. The ending of the story is especially sad when just a little while after he was flung out of prison back onto the streets he was stabbed and garroted to death by vigilantes.
Balay sa Gugma stands as one of the organizations around the world that struggles for children like Allan.
ALLAN (15 years)
"I am from Orogeta city. My parents live there. When I was eleven years old I came to Cagayan de Oro with my older brother. I lived under the bridge with some street kids. From them I learned to sniff rugby, begging churchgoers and other people just to get money to buy food – and vices. I was caught stealing goods in the Divisoria Market and I was charged with theft. Here I am in jail. I repented it so much. If ever I am released I will go home and ask forgiveness of my parents and, if possible, ask them to send me to school. Maybe it is not too late for me to change my way of life. "
(Allan, along with his brother Nilbert, was murdered shortly after his release from Lumbia prison, Cagayan de Oro, Mindanao, Philippines)
Feb. 15, 2002
The group of vigilantes this time started to illegally kill or salvage alleged police characters. Yesterday Feb. 14, Valentines Day, at more or less 4:00 o'clock am, two street boys with BM 29 tattooed on their bodies were shot using a .45 caliber pistol. One of them was Jimboy Apas from Macabalan this city, a minor detainee at Lumbia.
We immediately confirmed at the funeral home where he was brought and it was positive. At this time we are in the process of gathering information why he was salvaged because last Feb. 7, Bobby, our street coordinator attended a court hearing. The following day Feb. 8, we went to Lumbia to distribute bath and laundry soap and fruits for the minors. When we ask the boys where Jimboy is they told us that he was transferred to the adult compound because he was already 18 yrs old.
We believe that there is something fishy with regard to his death because according to the police report that this boy was released from the custody of the DSWD last Sept.2001, but based on our record this boy exists in minor cell. We started yesterday to gather information from the police record and today Feb. 15 we will visit the minor to acquire more reliable source. This afternoon, we will be having our regular monthly Task Force meeting and I have to report this matter so that once and for all we can hear from the BJMP side and of course from the DSWD social worker.
At this point in time we are very much ready to attest the truth that during the Feb. 7 hearing there was no order to release Jimboy from his cell.
Feb. 17, 2002
Yesterday there was another victim of salvaging by vigilantes group. The victim was identified only as Amang meaning (deaf and mute). According to the parent where this minor resides, he came from Cebu riding in a boat. This month he was the 3rd victim of salvaging. Again this boy has BM 29 marked at the right side of his body. I think this Amang in city jail acquired this mark because he happened to commit (sic) sometime in August 2001 and we know this boy, the only problem was: it's hard to talk to him. I think we need to learn a sign language soon. (sic)
Last Friday, we had a monthly task force meeting and the group decided to have a dialogue with the city police chief of Cagayan de Oro to discuss this matter because as I have reported during our meeting the motive of vigilante groups was inhuman. I reminded the member of the task force that only God has the right to cease our earthly life and besides it is a violation of the commandment of God.
Yes, this was a rugby and street kid or whatever, but being a human he has the right to live.
In Cagayan de Oro there are many children in prison – for sniffing glue for example. They are jailed together with adult hardcore criminals. This is not legal according to Philippine laws and the UN Charta for the Rights of Children. The Philippines is a signatory of the UN Charta! The situation there in the prison is just dreadful! No water, no medicine, nothing to do. Balay sa Gugma goes there daily to help the boys.
Balay sa Gugma Street Children Foundation, Inc., Cagayan de Oro, Philippines